MAIN STAGE
"It aint the gangsta party, it's not the after-party, it's the Black Panther party"

Black Panther Fugitives - "Partyline"
The Black Panther Fugitives are an Oakland-based hip hop trio who wield words and rhymes as weapons, and are representing the legacy of the Black Panther Party. The group chose their name to identify themselves, not with petty criminals, but with freedom fighters who were deemed outlaws by their oppressors. From Harriet Tubman to Malcolm X to Huey P. Newton, the group take inspiration from their own history. Believing that hip hop is borne of the centuries old tradition of the musical tapestry woven by Africans seeking freedom in America, The Black Panther Fugitives describe themselves as renegades escaping the thug stereotypes now dominating hip hop culture. James Calhoun (aka Jamiel Hassan, aka the ghettopoet & street soldier),Bones (aka the lyrical sharpshooter aka the young firestarter of the crew), and J.U.G. (aka the quiet storm aka the rock of the crew) are manifesting old skool traditions mixed with new skool dialect to form a powder keg that the "Rapolution" desperately needs.
James Calhoun (aka Jamiel Hassan) was born into the Black Panther Party, both his mother and father having been party members. His father, Bill Calhoun was one of the members of The Lumpen, a singing quartet that opened Panther rallies during the Party's heyday in the late 60's and early 70's. Later he moved from Oakland to New York, where he was raised side by side with his mother's Panther comrade Afeni Shakur and her son Tupac. His and Tupac's common history as Panther children led them down a shared path as artists, and Jamiel programmed drums on several tracks on 2Pac's record "Strictly 4 My NIGGAZ". He has gone on to perform and produce music for Queen Latifah, Public Enemy, EPMD, Ice T and others.
Jamiel Hassan crossed paths with Dorion Hilliard when Dorion's father David (who was co-founder and original Chief Of Staff of the Party), purchased a compilation of speeches by Malcolm X that Jamiel had produced. David bought the speeches at Marcus (the oldest black bookstore in America), which was owned by Jamiel's mother in law, and thus began Jamiel and Dorion's relationship . This would culminate in Dorion coexecutive producing (with his father) the Fugitives debut album "All Of Us". The record was the first release on Black Panther Records, a label Dorion & David Hilliard co-founded with Hassan. Dorion had been seeking a way to make his own imprint on the American musical landscape in the wake of the decades since the Party's demise, and the label provided him with the opportunity to do that. The label, which is part rebuttal to the gangsta rap dominating the hip hop scene and part educational forum, is bringing the Panther legacy full circle to the hip hop generation.
"Some of our children have survived: wounded, perhaps, but standing. This is their song, their new sound, the hard beat of the history of our people, up from slavery, down from the hood. In a time when voices raised against government polices are deemed terrorist threats and voices of dissent are arrested, this new sound represents an anthem of freedom"

– Elaine Brown, Former Member of The Black Panther Party, Southern California Chapter
David Hilliard was co-founder and chief of staff of the Black Panther Party in the 60's and 70's. He is now President of Black Panther Records and operates Black Panther Tours (which he created), which visits historical landmarks of the Panthers in and around Oakland. Mr. Hilliard also started the Newton Foundation (named after Panther member Huey P. Newton) in 1993 (with Newton's widow Fredrika), whose goal is to promote the legacy of the Panthers through publishing, tours, lectures and other educational initiatives . He is also the author (with Lewis Cole) of "This Side Of Glory: The Autobiography of David Hilliard and The Story Of The Black Panther Party". Under The Volcano is very honoured to present David Hilliard as our keynote speaker.
DAVID HILLIARD WILL BE DOING A BOOK SIGNING AT THE MERCHANDISE TENT AT 6:30PM.
DJ highstrung (aka Katattack3000, aka Arthur Pantzarelly) seamlessly combines styles, genres and (most importantly) records, coming off like a mad chef. While classically trained as a beat maker and producer, highstrung decided to turn this prior training on its head, and in 2000 he started rocking live shows with just two turntables and a microphone (and a mixer). When not on the wheels of steel, highstrung keeps it real with his Partners, oiling the squeaky wheels at Camobear records (a new-jack hip-hop label) that he helped start in vancity. His live set will turn the party up well past eleven and keep the peoples shaking longer then a Wrexx in Effexx after-party.
Barleywik are an-all-female bootstompin', head-swayin', soul-stirrin' traditional country and bluegrass quintet (this isn't that countrypolitian stuff you hear on commercial radio, this is true old-time music with strong lineage). Each of the members experienced diverse musical beginnings: from growing up in the 60's in the U.K., to the East-coast influence of small-town Ontario to the Prairie roots of Saskatchewan, Barleywik amalgamate these cultural and musical styles to create a unique flavour. Their breath-taking four-part harmonies flow seamlessly, adding depth to their reverently respectful covers and to their original compositions. Tipping their hats to artists such as Bob Dylan and Johnny Cash, these five women play a wide range of instruments, (including washtub, mandolin, accordion, banjo and knee saw), and weave intricate & interesting tales like the best storytellers do!
Cyrous Sharifpour & Serwa Fiak
Cyrous Sharifpour was born in Sanandaj, in the Kurdish region of Iran. He grew up immersed in the traditional songs, dance, stories and culture of the Kurds, and witnessed the spiritual miracles of the Sufi dervishes. In his youth he participated in public speaking competitions on the National level, and then in his 201s studied at Punjab University in India. In 1987 he immigrated to Canada, where he established an art business and continued his studies in hypnotherapy counselling. Cyrous has played an active role in building multi-cultural peace & unity, and always brings the best of his Kurdish heritage to the West. He has
helped many immigrants with their settlement process and, and is known for his generosity of spirit and compassionate counsel. He performs Kurdish folk music across North America, expressing his insights and love for all peoples.
Serwa Fiak developed a passion for singing that began in Grade 5. She is from Halbaja, Kurdistan (Northern Iraq), a city infamous for the 1988 massacre of 5,000 Kurds by Saddam Hussein. Serwa immigrated to Canada in 1996, and since then she has dedicated herself to performing to raise money to send to her Kurdish community in Iraq. Before moving to Canada, she was part of a group of eight people who stared an organization (Defense Of Iraqi Women's Rights) that among other things, opened and operated a women's centre.
Born in the East representing the West, Brigee.K is a freestyle powerhouse vocalist who decorates the mic with her soulful flows and rhyming quickness. From Jungle to Hip Hop to Soul she presents a natural fusion of many styles that captivates audiences of all genres. Currently Brigee has been working on the production side of her music while preparing for her up coming album Brigee.K hummin and commin at ya with DJ/ Co-Producer L- effect A.K.A Lisa Howell.
Our MC this year is the inimitable Andy Healey. Andy plays in one of the most politically -active and community oriented bands in Vancouver, (the revered Submission Hold who just celebrated their 10th anniversary with a show on July 1st) and it's well known in punk and anarchist circles that his sardonic wit can add humour to politics.
Proud Mary is an East van band that revolves around the lyrical beauty and power-house voice of Lavera, one of the most under-rated singers in our fair city. The musicians come from diverse backgrounds, and therefore do not conform to typical structures or constraints. Instead, they blaze their own sonic trail, driven by Lavera's vocal prowess, and a shared love for all kinds of music.
Eekwol was born and raised in Winnipeg and Saskatoon , and is a member of the Muskoday First Nation. Along with her crew, Innersoulflow, she has dedicated six years to the art of hip hop and has used her skills to give something back to her community. Her first solo release, Soundsick?! includes a range of sounds and styles along with a guest appearance by PSC.Luckyiam (of The Living Legends). She is also featured as an emcee on many other releases, including the recent full length by Innersoulflow. She has lent her voice to countless live shows, including the recent Red Wire Aboriginal Day show in Vancouver. Eekwol also recently returned from a month long hip hop tour across Canada with well-known artist Pigeon John, and MC Ndidi Cascade. Eekwol's goal is to bring to light an understanding of Aboriginal culture through music from the heart. With her captivating presence and lyrical strength, Eekwol moves the crowd, and eliminates the boundaries that separate artist from audience.
Unofficial Infernal Manifesto
"The Infernal Noise Brigade is a marching drum battery and street performance group activated by massive political and cultural uprisings. We are a tactical mobile rhythmic unit consisting of a majorette, medic, tactical advisers, rifle twirling contingent, flag corps, sound generating kart, vocalists, horns, and between 8 and 12 percussionists. It is our intention to be a soundtrack for insurrection. Rendering ideology obsolete, we practice the politics of pleasure and subversion on the streets. We are not interested in chanting dogmatic slogans, nor is there a banner behind which we all wish to march. We attempt, through our aesthetic sense and our fierce commitment to the politics of joy and desire, to create a space of carnival. A space where rules are broken and anything is possible. Whether in the larger context of an action, or in random appearances on the streets, the INB interrupts the status quo, enlivening the everyday and fueling it with infernal noise."
"Mix up-front guitars and stout drum/bass rhythm with Navajo lyrical refrain & you've got the Navajo version of Rage Against The machine"
- Fallout Magazine
Blackfire is a Dine' (Navajo) power trio of 2 brothers and their sister who have combined their traditional roots with a youthful, raw energy to create a real "Alter-Native" sound. The siblings were born into the heart of the political land dispute on Black Mesa in Arizona, and this has meant their biggest musical influences have been the ceremonies and powwows they have grown up with. Blackfire's songs warn of rage against a world threatened by capitalist greed and environmental degradation (a crisis the band feels is largely ignored by society). They especially aspire to draw attention to the unjust hardships suffered by Indigenous peoples, including the Dine' (Navajo) Nation. They communicate a drug & alcohol free message, while also challenging their audience to be critical thinkers.
In '94, they recorded their first CD, which was produced by CJ Ramone (yes, of the Ramones), and then toured extensively through out America & Europe. They followed this up with a full length, "One Nation Under" , produced by Don Fleming (another punk rock royalty, he's produced Hole & Sonic Youth among others), an album which serves as a wake-up call to America and the world. "One Nation Under", which won the 2002 Native American Music Award for best Pop/Rock Album of the year, fires off 15 songs of struggle, resistance and hope, and this has brought acclaim from Argentina, Japan and Europe (where they have toured 4 times, the most recent seeing them play over 50 dates in 8 weeks).
"The only thing holding up a wall...
...are the people who won't tear it down"

(from the song "Fence")
The band has travelled all the way from Arizona to take the mainstage today, and we welcome them.
Leonard George & Children of Takaya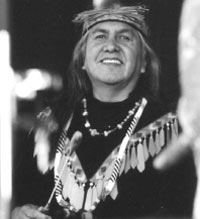 Under The Volcano is proud of our long-standing relationship with the people of the Tsleil-Waututh Nation, on whose traditional territory our festival is held. Leonard George & Children Of Takaya will provide us with our Annual Welcoming.