To find out when your favorite artists are playing, you can also
check out the schedule.
Tsleil-Waututh Nation Welcoming
2:00 pm
Members of the Tsleil-Waututh Nation will perform an annual welcoming.
No Luck Club
8:50pm
Founded by the Chan Brothers (Matt & Trevor), no luck club is an instrumental hip hop project spawned from DJ culture and electronic music. Their beat-driven sound collages have been shaped by their broadcasting experiences at CJSF Radio and by their eclectic tastes in music and art. Their debut album, "Happiness" is the first installment of a trilogy of recordings loosely based on the Chinese deities symbolizing luck and good fortune. rhythmic grooves + elements of various music genres + found sounds + vinyl culture + turntablism = hip hop + funk + jazz = no luck club.
* NLC will be joined by break dance crews for this closing performance
The Subhumans
7:00 pm
In Vancouver's long and glorious history of punk rock, few bands were more punk, or more rockin' than the Subhumans. Subhumans gigs were a riot, (sometimes literally); and they were the living embodiment of everything that was great about punk rock, circa 1978-82.
The band formed in the spring of '78, (their first show was an anti-Canada Day celebration sponsored by anarchists on July 1st, 1978) with the original line-up of Brian Goble, a.k.a. "Wimpy-Roy" on vocals, Ken Montgomery, a.k.a. "Dimwit" on drums, Gerry Hannah, a.k.a. "Gerry Useless" on bass and Mike Graham on guitar. The mix of personalities and talents was perfect.
Besides doing well in Canada, constant touring helped the band establish a beachhead in the US, where they often appeared on bills with Minor Threat, the Dead Kennedys, X and Bad Brains. They did particularly well on the West Coast, building up large followings in places like Seattle and San Francisco. But it was a grind and eventually, Gerry and Jim packed it in and were replaced for the 2nd album,"No Wishes, No Prayers". In '82, Brian joined DOA, Mike went off to found Shanghai Dog and the Subhumans were no more.
A year later (in '83) Gerry became famous, but not as a musician. Always involved in political issues, including environmentalism (one of his nicknames was "Nature Punk") —he linked up with a group of political activists called Direct Action. Among other actions, the group blew up an environmentally unfriendly hydroelectric substation on Vancouver Island and bombed the Litton plant near Toronto, which manufactured parts for the cruise missile, a "first strike" nuclear weapon. When police finally caught the group, (which became known as the Squamish Five), Gerry was sentenced to 10 years in jail and was released after serving five.
In 1995, the Subhumans reformed for a western Canadian tour and though the band had no newly recorded material to support them, the tour went surprisingly well, with the band playing to audiences as enthusiastic as ever. As one critic put it at the time, "Time has been kind to the Subhumans' music—it sounds as fresh and invigorating as the day it was cut...."
More recently, the band has reformed with original members Brian, Gerry and Mike, joined by Jon Card (formerly with SNFU/DOA) on drums and have written an album's worth of new original material and are planning to do a large tour in the spring of 2006. UTV is proud to present the SUBHUMANS on our Mainstage this year, as we're ardent supporters of punk bands who put their politics into practise.
Jahranimo
2:20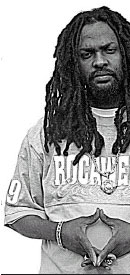 Born in Montego Bay Jamaica, Jahranimo opened his heart to music from a very early age. His mentors, Bob Marley and Super Cat were as much a part of his life as eating and sleeping. "I remember as a kid performing any chance I could" he says, "It didn't take me long to realize that what came from inside me, was a gift from beloved Jah to share with the world." His first big break came as a teenager in Savanna-La-Mar where he met the former manager of Shaba Ranks. This led to many opportunities over the next few years to be part of some of the biggest shows in Jamaica, including opening for acts like Half Pint, Tantro Metro, Devonte & Mighty Diamonds. A CD release called "In Jamaica" which included such artists as Kirk Davis & Beenie Man, also helped him get national attention.
Jahranimo released "Real Life" in September 2004. Although all the production on this CD was done in Canada, most of the music came from producers in Jamaica. Three tracks on the album were created & produced by Ninjabeatz, including "I Wanna" which is also the first radio & club single. Jahranimo describes himself as a true Rasta Man, and when people ask him what that means, he responds "Jah love is so divine.... and as long as I stay true to him, and to myself, I can never lose.
Faith Nolan
3:25
Faith Nolan is an Afro-Nova-Scotian Miq Maq, Irish queer activist, whose songs come from a deep commitment to the struggles of people throughout the world. According to Faith, "music is a powerful tool that can be used for political and cultural
expression." It is in a global context that Nolan uses this tool to connect the conditions and exploitation of oppressed peoples, in songs such as "The Richest In The World". "Hard to Imagine" lyrically tells the story of poverty, racism, violence against women, and the need to struggle for a better world to live in. Faith has released numerous albums including Faith Nolan Compilation 1986-1996, Hard to Imagine, Freedom to Love, Sistership, and Africville. She performed once previously at UTV, way back in 1996, and we are grateful to have her talent, insight and lyrical depth back at the festival this year.
Paint
1:00pm
Formed in Vancouver in 2001, PAINT has a mature, colourful, and eclectic sound; a unique blend of folk, funk, rock, classical, and R&B influences that merge into a distinct, coherent, and recognizable style. Urban Folk Tales is the emotional and intellectual expression of the band's artistic depth. Written as a concept album, each song stands high on its own, as well as within the context of the musical journey that takes the listener through Motown-fueled grooves, picturesque pop soundscapes, '70s-style rock, and a deep funk groove. Lyrically, PAINT tackles today's socially-relevant themes such as prison abolition, women's and gay rights, race relations, and religious persecution. Their "nothing is sacred" approach to lyrics mirrors their attitude towards music.
Iva Bittova
5:45
Iva Bittova is one of the most remarkable personalities in Czech music. Permanently oscillating between folk and contemporary music, Bittova has created an original and totally individual way of playing music, which she describes as "my own personal folk music". Her compositions and improvisations are abstract variations on folk-like melodies, shaped by the classical and gypsy music of the tiny Moravian villages where Bittová spent her formative years. The avant-garde violinist, singer and composer, was born in Bruntal, Northern Moravia the daughter of a gypsy fiddler. She moved frequently throughout Czechoslovakia during her childhood, attending violin and ballet classes in Opava and appearing in Zdenek Nejedly's Silesian Theatre in children's roles. In 1971 she began studying music and drama at Brno conservatory, and then became a permanent member of the avant-garde group "Theatre On A String". Since that time Bittova has created successful roles in theatre, film and television and has worked with well-known Czech directors J.Jires (Island of Silver Herons, The Diary of One Who Disappeared), D.Hanak (Rosy Dreams) and E.Sokolovsky (The Apple and Its Tree).
Czech music audiences first became aware of Bittova's musical talent in 1987, after she and percussionist Pavel Fajt released a joint recording titled "Bittova and Fajt" – a very original minimalist fusion of alternative rock music with Slavic and Gypsy motifs. Her first solo record ("Iva Bittova" - 1991) fully outlined her extraordinary complexity as an artist.
"Her colourful voice scaled the octaves, intertwining with alternately warm, frantic and brutal tones emerging from her violin and viola, creating interesting musical landscapes with poetic lyrics that drifted quietly over them like clouds..." wrote The Prague Post.
Critics from all over the world try to classify Bittova. Some say she's like Diamanda Galas, others reference Laurie Anderson. But Bittova - drawing from a well of pure natural talent and Gypsy-Jewish blood - is an incredibly unique artist who pushes the boundaries of music.
An accomplished performer with a well-established reputation in Europe, the US and Japan, Bittová has also released six solo CD's. A performance at Finland's Tampere festival in November 1996 sparked this reaction: "Simultaneously singing an exquisite, melodic narrative of a woman's passage from childhood to old age in beguilingly accented English…she demonstrated the aplomb of Jimi Hendrix with none of his excess. She also displayed considerable range, unflappable grace and a sense of humor" (Howard Mandel, RhythmMusic).
UTV is incredibly excited to present Iva Bittova on our Mainstage this year. Since 2000, we have made our annual phone call to the Czech Republic to invite her to perform, but each year Iva has been unavailable. Finally, this year we were able to confirm her performance, and it is not an exaggeration to say she is one of Programming Co-ordinator Meegan Maultsaid's favorite artists of all time.
Native Guns
4:30
Native Guns consists of Cali-based Pinoy MCs Kiwi & Bambu, who bring together their very different yet very similar styles, experiences and visions, combining their love for music & word with a commitment to turning the system upside down. They've performed with such acts as Medusa, Planet Asia, Boot Camp Click, Visionaries, Immortal Technique,Lyrics Born, and others. KIWI, (an L.A native who now lives in in the SF Bay Area) and BAMBU, (originally from the Watts community of Los Angeles), have moved away from early gangster rap influences to become recognized for politically charged lyrics and a passion for community. More than just street-conscious, the pair shares a fearless attitude of no-holds-barred vocalizing and staying true to their roots.
"Our music is just a continuation of a story started by gangster rap," Bambu says. "I'm strongly influenced by the music and have learned and progressed from it." And it shows. Native Guns shows are more than just a typical rap concert. The duo expresses their political views by holding up banners, wearing handcuffs and even rallying on stage. "We come from a long tradition of hip-hop artists who have challenged the status quo and mainstream thinking through their work," Kiwi notes. "The one thing that probably sets us apart is that our voice comes from a Filipino-American perspective, giving us some distinct experiences to rap about."
Before becoming a "political rapper," Kiwi began questioning conditions he experienced within his community, such as police harassment, a lack of academic opportunities, drugs and violence. "It was very important for me to become grounded in the stuff I was rapping about, through engaging with discourse with folks about community issues and getting involved in local Filipino community-based organizations," he explains. As for the name Native Guns, Kiwi says that he sees culture as a weapon to serve and protect the community, to uplift and celebrate the people. He adds that culture is used in mainstream media to propagate ideas to entice people to buy a certain product or to think a certain way politically. "I want those that don't know to begin to question, and I want those that do know to be inspired to continue to make a positive change."
UTV would like to thank (FCYA) Filipino-Canadian Youth Alliance for their collaboration in bringing Native Guns to the festival.
Po' Girl
8:00 pm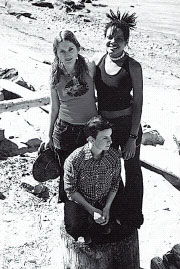 Vagabond lullabies, hobo-poetry, inner-city blues. These urban minstrels pen harmony drenched melodies to warm your toes. Guitar, banjo, fiddle, clarinet, and harmonica create sultry and rustic ambience both nostalgic and contemporary.Take the bellow of the blues, the wail of a gypsy fiddle, punk-rock street poetry, a cajun love song, and depression-era jazz, mix it all up andadd some old R&B. The sound of Po' Girl is elusive yet rich with musical references. Following the release of their "Vagabond Lullabies" album (Nettwerk Records), the band has been touring relentlessly across North America, the UK and Australia.
Po' Girl is much-loved in many communities and for good reason. The band is not only one of the finest musical talents around, but they often lend their name to various benefits and fundraisers.
KEYNOTE ADDRESS: "Youth On The Rise"
5:10
Dustin Johnson (who's tribal name is Tsm'gwantsks from the Gispwudwada (Killerwhale/ Blackfish Clan of the Tsimshian Nation of the Northwest Coast) is a member of the Education and Outreach Committee as a member of the IIYC 2005 (International Indigenous Youth Conference) Secretariat. Dustin recently graduated from UBC and has been organizing and doing public speaking as a co-founder of the Indigenous Student's Society at UBC.
Johneric Concordia has been an active organizer in his community of Downtown Los Angeles Echo Park (also known as Historic Filipinotown) since the age of 12. Recognized and awarded for his activism, Johneric has been featured in the Los Angeles Times numerous times and received the United Way's Youth Volunteer of the Year Honor when he traveled to Australia to share and discuss his involvement with the youth of Sydney. Now 25, Johneric has lectured in various universities, community centers, high schools, conferences, and forums regarding youth organizing/activism.
Since his return from the Philippines Johneric has gone on a national speaking tour to share an in depth perspective on the ongoing struggle of the Bangsamoro people in their fight for self-determination and rights to ancestral lands.
As the Philippines has been declared the 2nd Front in Bush Jr.'s so called "War on Terror", Mindanao and its people face continuous hardships, exploitation, human rights violations, and oppression perpetrated by the U.S. backed-Gloria Macapagal-Arroyo Regime.
Inez Point - My name is Laxaltenaut and my english name is Inez Point. My father is Sto:lo and Musqueam and my mother is Annishnabe and Metis. Having been born and raised on the Skowkale reserve in Chilliwack, British Columbia I have been fortunate enough to be surrounded by the teachings of our elders and know the struggles of the next generations of Aboriginal people. I am concerned citizen of the Sto:lo Territory with interests in Aborignal health, land title, and preservation of traditional knowledge. With guidance from my elders and peers, I hope to contribute to a revolution of self-healing and sovereignty.